Transform fear and doubt, align with your heart, stand in your power, know your worth and walk an enriching and intuitive path.

Join me on a journey. A journey of awakening your consciousness, opening your heart, expanding your mind, healing your body, and strengthening your Spirit. Your soul yearns for you to remember who you are, to feel empowered without having to overpower others, to give yourself permission to love yourself and be loved. Then challenge old belief systems holding you chained to the past and set healthy boundaries so you may realise your full potential.

You deserve peace, laughter, love and happiness. It's time to SHINE.

My passion and soul's purpose is to restore hope into the hearts of many, and I do this through inspiring people ready for transformation through deep healing, spiritual teachings, and psychological insight and written word.
| | |
| --- | --- |
| Keep informed about events, workshops, news, articles and inspiration | |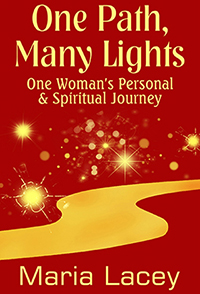 Author – Maria Lacey
One Path, Many Lights – One Woman's Personal and Spiritual Journey

One Path, Many Lights takes you on the roller-coaster ride of twelve months in the life of author, counsellor, hypnotherapist and Reiki Master Teacher, Maria Lacey. By sharing her story Maria has one aim; to encourage you to recognise that change, adversity and confusion can empower you to move forward in your life.

Experience the wonder of spiritual visions after the Chilean earthquake, the grounding fears and anxieties of everyday life, including a life-threatening rush to hospital, surgery a few months later and the personal struggle with anxiety, the ego-self and the mirrored reflection of those around her. Inevitably, adversities from Maria's earlier life cannot be ignored in her striving to understand her present journey.

As a healer and counsellor Maria meets with a diverse range of clients from young women in their 20's to men in transition to retirement, as well as her beautiful pregnant mums. Maria finds herself sitting and writing in her art room, her place of peace and meditation, unlocking her inner sight through channeling information from the Guardians of the Light. There are many questions, some answers, and thought-provoking moments.

One Path, Many Lights explores the author's truth as she exposes her innermost fears, struggles and resistance to understanding herself. This enlightening story will give you hope and comfort in knowing you are not alone in your own personal struggles.
One Path, Many Lights what a very special read it is. You know you've found a good book when you can't put it down!! Maria Lacey, someone I feel honoured to call my Reiki and Spiritual Teacher, business mentor and friend, has formed a delightfully honest, real and raw story of her own journey while sharing such powerful, inspirational and down-right MIND-BLOWING insight to her readers. Maria, it was refreshing to learn that you really are a human being with all of those anxieties and worries that we all have and yet you continue to empower those around you including myself with the lessons you have learned and the truth that love is. Congratulations on such a brilliant first publication Maria. I look forward to your next one. With love. Xx
- Bronte Spicer

I love her book. The raw honesty - beautifully written - I could not put this book down - a wonderful lady who gives so much of herself in her commitment of service to others - how Maria hid her painful past from others to give healing thru her passion as a professional is outstanding. I love the inspired channelling filled with thought provoking inspiration to help us to open our hearts to healing. A true healing book that I have filled with highlighting and scribbled notes to myself. Thank you Maria
– Carine B Woder